It is said that the man and rock have lived and battled with one another here on Brač since the beginning of time. People defied this harsh way of life with persistence and strength drawn from the rock itself. Eventually, this barren landscape has opened its heart and borne fruit for the farmer. Traditionally and ecologically farmed food is prepared into healthy dishes, inevitabley seasoned with olive oil. It is those gifts of nature that are the recipe for longevity of the people of Milna and the island of Brač.
Upon your arrival in Milna kind hosts will offer you dried figs, carob, almonds, candied orange peels and homemade sweet wine. In addition to all the common Dalmatian dishes, grilled fish, seafood, olive oil, homegrown fruits and vegetables, Brač cuisine has some specialties of its own. Lamb and goat meat of milk-fed animals that have not yet grazed aromatic Mediterranean herbs has been favored since ancient times. Especially a dish called "vitalac", where lamb offal (liver, heart, lungs) are wrapped up in stomach lining and roasted on a spit. Slices of vitalac are commonly served while waiting for the entire lamb on a spit to finish roasting. Another specialty is called "butalac" – leg of lamb stuffed with aromatic herbs and cooked with wine, as well as sautéed lamb dish "tingul" and many other dishes featuring our famous Brač lamb. Favorite beef dish among locals is "pašticada" stew, served with homemade gnocchi. A popular way of preparing meat and fish uses wood embers and is called "peka". Many gourmands consider this the ultimate culinary technique. Peka is a metal, oval dish, often made of cast iron and varies in thickness. The most common type of peka is the one with meat, especially veal, beef and lamb, garnished with plenty of potatoes and vegetables.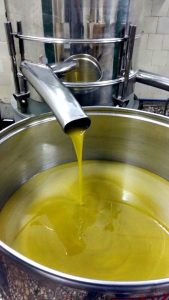 Fish is also well represented in our cuisine. A dish you will often find in Milna is the famous traditional fish stew called "brudet" or "brujet". As the saying goes, "There are as many recipes for brujet as there are Dalmatians". This fish stew is prepared with several types of fish and seafood. On the one hand simple, but on the other tricky to find the right combination of ingredients and the right way to cook it, and this is subject of many a debate, up and down the coast.
Another famous food from Brač is the sheep milk cheese. This cheese is air dried and stored in stone or ceramic dishes to stay fresh longer. Some preserve it in homemade olive oil. A special delicacy made of cheese, no more than 24 hours old, is called "procip". The young cheese is sliced up and fried in caramelized sugar. "Smutica" can still be found on Brač. This delicious drink is made of 4/5 fresh goat milk and 1/5 red wine. As is the case with many Brač traditions, smutica recipe has been carried on since ancient times when it came highly recommended by Hippocrates himself.
It is worth mentioning the famous "plavac" red wine, drank here from the beginning of time. At the end of a flavorful dinner chances are you will be served one of our unique desserts such as the crispy and sweet "hrostule", or even more common "fritule" – fried balls sprinkled with sugar. Although also served during carnival, fritule are smaller than the more common traditional doughnuts. Fritule are popular all along the Adriatic coast and their recipes vary from region to region and even town to town, including here on Brač and Milna.
As "icing on the cake" you are surely to come across "paradižet", a very common Dalmatian dessert related to Austrian cuisine. It is a thick, liquid base that consists of milk and egg yolks, on top of which come blanched egg white clouds.
Simple, healthy and tasty dishes of our farmers and fishermen are coming back to our kitchens and even restaurant menus. The task of finding the best ingredients in fish markets is sometimes a challenge, but not in Milna, where at dawn you can find local fisheremen, waiting for you with fresh fish and clams.