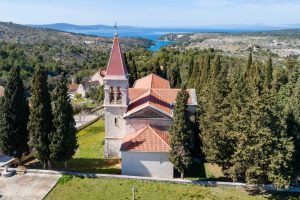 Bobovišća is located in the west of the island of Brač, only 2.3 km away from Ložišća, on the road to Milna. The village was developed after a persistent fight for secession from Milna parish in 1687. It was then that they got a chaplain and in 1750 it became an independent parish.
From the secession document, it is evident that Bobovišća was also called Stanac Dolac. In 1674, together with Ložišće, this village had a total of 220 inhabitants. Bobovišća has a rich history as witnessed by the Parish Church of St George from the 17th century and medieval church of St Martin.
Built in the first half of the 19th century in the centre of a spacious garden, the two-storey Cerinić Gligo House with an attic is located in the west of Bobovišće in the direction of the Bobovišće port. It was constructed from dressed stone in regular rows with five window axes on longer and two axes on narrower facades. The Gligo House is a monument to architecture and one of the most beautiful examples of architecture of that time and is thus a protected cultural good of the Republic of Croatia.